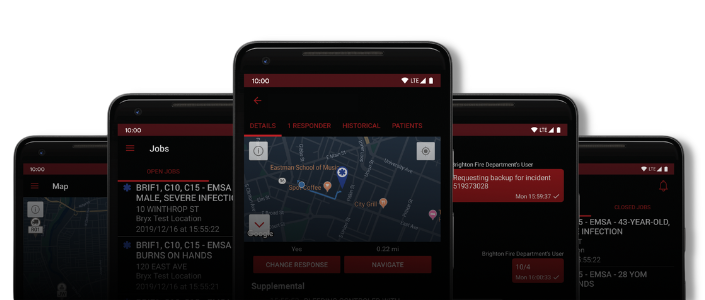 Free

Bryx Mobile Alerting Application
Bryx Mobile is a fast, easy-to-use mobile alerting app for first responders. It's free and allows team members to manage their own notifications, with the ability for you to override and alert when necessary. Customizable alerts let members configure notifications by Agency, Unit, and Job Type, with alert overrides for priority jobs, even when off-duty.
View rich information when available from CAD.
Job Categories - Fire, EMS, Police, Water, and Info.

Job Information - Synopsis, Location, Box Number, Priority, Cross Streets, Assignment, Incident ID, Close Reports, and Supplemental Data.

Complaint Information - Name, Address, and Phone Number.

Type Information - Identifier, Section, Category, and Description.

Historical Jobs - Description, Call Type, Date, and Time.
Already using Bryx Mobile? That makes you eligible for a free station alerting trial. Sign Up Here
With robust features and unrivaled reliability, Bryx 911 connects and informs your team, getting you to the scene with all the information you need right on your mobile device.
Hydrant Information
View hydrants around the job, color-coded for flow rate and condition.
Routing and Navigation
View the exact job location within your district and a highlighted route from your location to the scene.
Team Messaging
Enhance team communication through real-time messaging and live responder location updates.
Site Survey Data
Attach site survey data to include entry access and hazmat information.
Supplemental Updates
Information added after the initial dispatch displays next to the job details.
Critical Warning Banners
Receive Critical Warning banners for COVID-19 and future emergencies.
CAD / Data Protocols
Flexible input data protocols and formats. Standard integrations do not require custom CAD extensions.
2-Way CAD Communication
Automatically send updates to the CAD when responding to a job, and mark members as "offline" in CAD when off duty in Bryx 911.
AVL Tracking
Track your apparatus in real time and view locations on a map. Supported clients include Sierra Wireless, Cradlepoint, and others.
Flexible Dispatch
Enable dispatching by agency or unit and view supplemental updates in real time—all without creating any extra work for dispatchers.
Radio Streaming
Configure internet dispatch radio streams and play them directly from Bryx 911. Some hardware required.
24/7 Support
Bryx 911's first-in-class engineering is backed by dedicated, round-the-clock support from the same engineers who built the system.
"The phone app has been very useful. Having mapping, dispatch notes, and times immediately available has prevented delays and confusion, and reduced radio traffic." Blake Belsky
With heart-friendly features that safely alert the appropriate crew members and station automation that saves crucial time, we're proud to offer a system that benefits you and your team, and the community at large.
Color-Changing Lights
Our color-changing lights wirelessly connect to the SCU with a configurable set of colors for assignments and job types. The lights can be subdued at night to reduce optical strain.
Text-To-Speech Readouts
Bryx Station utilizes Neural Text-to-Speech (NTTS) technologies to read job information aloud over the PA system, delivering lifelike speech quality. Local pronunciation changes are available.
Heart-Smart Ramping Tones
Bryx Station connects to the existing PA system and starts alarms at a minimum volume, then gradually gets louder over a few seconds—gently waking and alerting responders. Ramping times are configurable.
Full Station Automation
Bryx Station can perform tasks that responders have little time to complete—such as turning off stoves, opening/closing bay doors, securing the building, and more.
Zoned Alerting
Set up your station so that different rooms are alerted for different jobs. Tones and lights can be configured for bunk rooms, ensuring a healthier wakeup for crew members in those areas.
Automatic Switch Screen
Bryx can turn any existing CEC-compliant HDMI TV in your station into a Bryx Station Board display. When a call comes in, all content on the screen will automatically switch to the display—informing your crew of the job details no matter where they are in the station.
Off-The-Shelf Products
We use commercial off-the-shelf products to keep costs down and empower you to add to the system at your convenience.
Expandable GPIO Units
Our system utilizes configurable GPIO units with 8 inputs and 8 outputs, expandable to up to 255 GPIO units with 8 IOs each.
Customizable Functions
Changes to the functions of a SCU or GPIO unit can be configured with software changes only, not requiring any hardware changes.