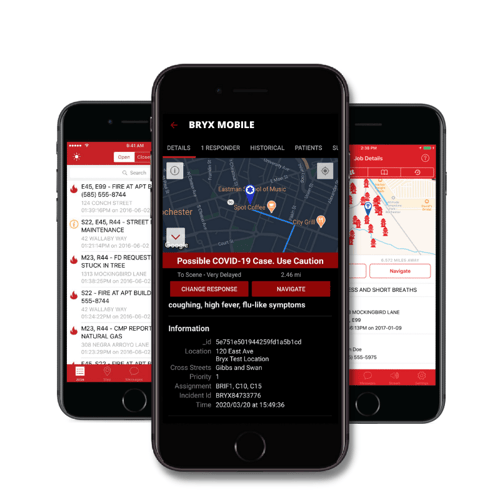 Free

Bryx Mobile Alerting Application
Bryx Mobile is the foundation of all that we do and is the product of years of collaborating between first responders and our world-class engineering team. Bryx Mobile boasts industry-leading speed, content, and ease of use, and is offered by Bryx at no cost.
Mobile job alerts are sent directly from your agency's CAD and arrive as much as 45 seconds before radio alerts

Situational awareness is vastly improved with site survey data, which can include Knox Box locations, hazardous materials notifications, and mapped hydrant locations with flow rates

Site survey data includes historical calls to the same address, further strengthening the data available to first responders

Team communication is enhanced through real-time messaging, messaging groups, and live location updates for users

Radio streams can be configured to enable audio from dispatch radio to be streamed via Bryx Mobile

First responders can indicate within the app whether they are responding to a call, and then navigate to the scene with in-app maps and navigation

Bryx Mobile's first-in-class engineering is backed up by dedicated, round-the-clock support by the same engineers who have built the system
Already using Bryx Mobile? That makes you eligible for a free station alerting trial. Sign Up Here
With robust features and unrivaled reliability, Bryx Mobile connects and informs your team, getting you to the scene with all the information you need right on your mobile device.
Hydrant Information
View hydrants around the job, color-coded for flow rate and condition.
Routing and Navigation
View the exact job location within your district and a highlighted route from your location to the scene.
Team Messaging
Enhance team communication through real-time messaging and live responder location updates.
Site Survey Data
Attach site survey data to include entry access and hazmat information.
Supplemental Updates
Information added after the initial dispatch displays next to the job details.
Critical Warning Banners
Receive Critical Warning banners for COVID-19 and future emergencies.
CAD / Data Protocols
Flexible input data protocols and formats. Standard integrations do not require custom CAD extensions.
2-Way CAD Communication
Automatically send updates to the CAD when responding to a job, and mark members as "offline" in CAD when off duty in Bryx 911.
AVL Tracking
Track your apparatus in real time and view locations on a map. Supported clients include Sierra Wireless, Cradlepoint, and others.
Flexible Dispatch
Enable dispatching by agency or unit and view supplemental updates in real time—all without creating any extra work for dispatchers.
Radio Streaming
Configure internet dispatch radio streams and play them directly from Bryx 911. Some hardware required.
24/7 Support
Bryx 911's first-in-class engineering is backed by dedicated, round-the-clock support from the same engineers who built the system.
"The phone app has been very useful. Having mapping, dispatch notes, and times immediately available has prevented delays and confusion, and reduced radio traffic." Blake Belsky