Immediate Alerts For Immediate Response
Full-featured alerting for EMS agencies isn't too good to be true.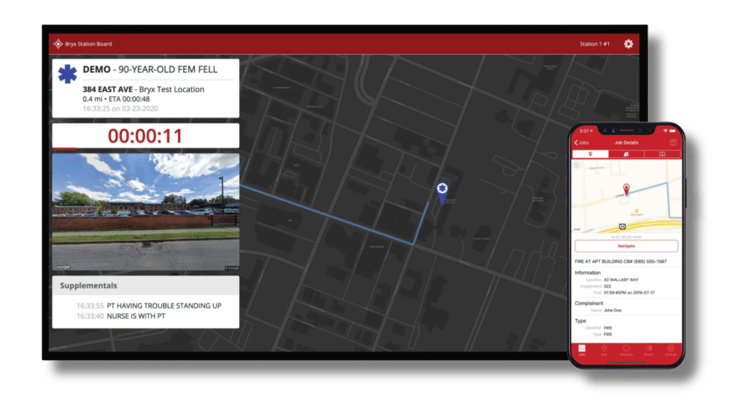 Everyone on your team can will receive the same information, at the same time. Using the same situational awareness, you can work simultaneously to produce the best outcome.
Affordable, Full-Featured System
Our cloud-based system provides audio, lighting, voice, and automation at an affordable price.

Integrated Platform
The Bryx Station alerting system works hand-in-hand with the Bryx Mobile app. The app is also available free of charge and with no obligation.

Industry-Leading Free Mobile App
From site survey data, historical jobs, and dispatch notes to messaging, responder locations, and mapping, Bryx Mobile gets you to the scene with all the information you need.
View our case studies and read how coupled with Bryx 911's real-time alerts and live messaging, Bryx Station has helped Penfield eliminate radio traffic, enhance team communication, and improve their response times by 55 seconds.
Mobile App Dispatch Notifications
Dispatch by agency or unit and view rich information and live updates when available from CAD.
Responding
Respond to 911 jobs within Bryx Mobile app
List all responses and view member locations and contact information

Configure "forced response" to require a response from all members viewing the job
Supplemental Information
Additional information provided by dispatcher added after the job is initially dispatched.
View supplementals and times next to the job details

Updated automatically from CAD
Historical Jobs
Prior 911 jobs at the same location
Quickly view job information for prior calls to the same address

Detailed information for prior call includes: description, call type, date, and time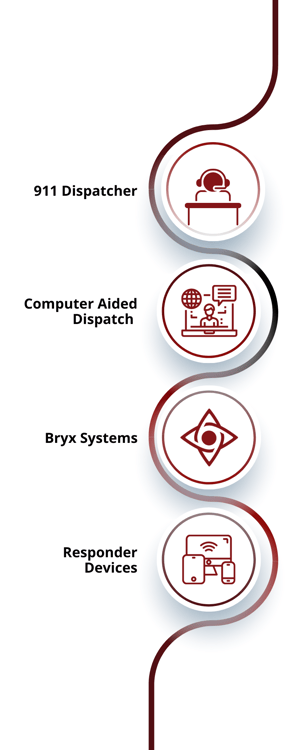 Real-Time Notifications
The Bryx Station alerting system works hand-in-hand with our free mobile alerting and messaging app. These products work seamlessly together to empower first responders to work faster, smoother, and smarter.
Once a job is received, our system parses and processes the information, then instantly notifies the Bryx Station Alerting System and Bryx Mobile users.
Together, Bryx Mobile and Bryx Station form a fully integrated alerting and messaging platform.