Bryx Station Alerting System
Integrated with the Bryx Mobile app, the Bryx Fire Station Alerting System provides immediate alerts, full station automation, and improves response times. Our high performance platform is simple to set up and cost effective, using commercial off-the-shelf technologies when available.
When our community is relying on you to perform at your best, the last thing your team needs is to be hindered by an extensive, drawn-out installation process. At Bryx, we keep installation simple. In some instances, the system can be self-installed and running effectively on the same day - little to no station measurements or renovations required. At the department's request, Bryx also offers full system installation by our trained installers.
Our station control unit is 14.5 inches deep and mountable to any 2-post telco rack or 4-post computer rack. The GPIO unit is a small form factor, DIN rail mountable solution for automating tasks, such as opening and closing bay doors, turning off stoves, and securing the building.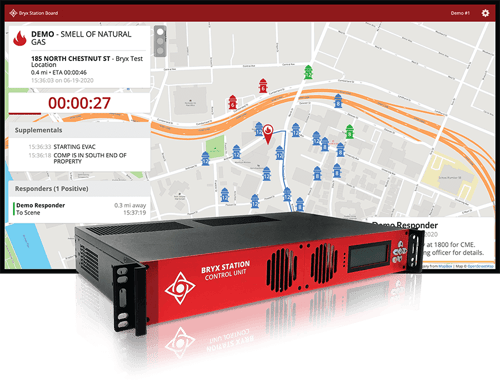 With heart-friendly features that safely alert the appropriate crew members and station automation that saves crucial time, we're proud to offer a system that benefits you and your team, and the community at large.
Color-Changing Lights
Our color-changing lights wirelessly connect to the SCU with a configurable set of colors for assignments and job types. The lights can be subdued at night to reduce optical strain.
Text-To-Speech Readouts
Bryx Station utilizes Neural Text-to-Speech (NTTS) technologies to read job information aloud over the PA system, delivering lifelike speech quality. Local pronunciation changes are available.
Heart-Smart Ramping Tones
Bryx Station connects to the existing PA system and starts alarms at a minimum volume, then gradually gets louder over a few seconds—gently waking and alerting responders. Ramping times are configurable.
Full Station Automation
Bryx Station can perform tasks that responders have little time to complete—such as turning off stoves, opening/closing bay doors, securing the building, and more.
Zoned Alerting
Set up your station so that different rooms are alerted for different jobs. Tones and lights can be configured for bunk rooms, ensuring a healthier wakeup for crew members in those areas.
Automatic Switch Screen
Bryx can turn any existing CEC-compliant HDMI TV in your station into a Bryx Station Board display. When a call comes in, all content on the screen will automatically switch to the display—informing your crew of the job details no matter where they are in the station.
Off-The-Shelf Products
We use commercial off-the-shelf products to keep costs down and empower you to add to the system at your convenience.
Expandable GPIO Units
Our system utilizes configurable GPIO units with 8 inputs and 8 outputs, expandable to up to 255 GPIO units with 8 IOs each.
Customizable Functions
Changes to the functions of a SCU or GPIO unit can be configured with software changes only, not requiring any hardware changes.
Together Bryx Mobile, Station Board, and Station Alerting form a fully integrated alerting and messaging platform.